Brighten up your salad days with flowers
Healthy eating with a floral flourish
Thankfully, the latest healthy eating fads have little to do with fasting, fad diets and feeling internally hungry – they're about tasty, filling meals that look good and taste great. And the cherry on the top? A sprinkling of fresh flower petals to add colour, flavour and a little ray of sunshine to your day. 
The new salad
We know what you're thinking: salad isn't a meal, it's a side dish. But forget the plate of limp leaves that once passed as a salad, the latest incarnations are healthy, hearty and packed with robust flavours. Often described by healthy eating bloggers as Buddha Bowls, these new super-salads are perfect for packing up for lunch at your desk. Italian food lover David Bez, the culinary wiz behind healthy eating blog and café Salad Pride is a master of this style of food preparation and is on a one-man mission to change our preconceptions about salad.
Layer up
To create your own salad or Buddha bowl, start with a layer of wholegrains, such as couscous, quinoa or brown rice. Next, add a layer of your favourite veggies, roasted up the night before for that sweet chargrilled flavour. Then add some protein, such as chickpeas, beans, avocado or halloumi – or if you're strictly carnivorous, chuck in some roast chicken. Add a few leaves and sprinkle with chopped chillies, spicy seeds, a drizzle of oil and a squeeze of lime. Find this beautiful example of a hearty salad garnished with a single viola, and hundreds more on the Salad Pride blog.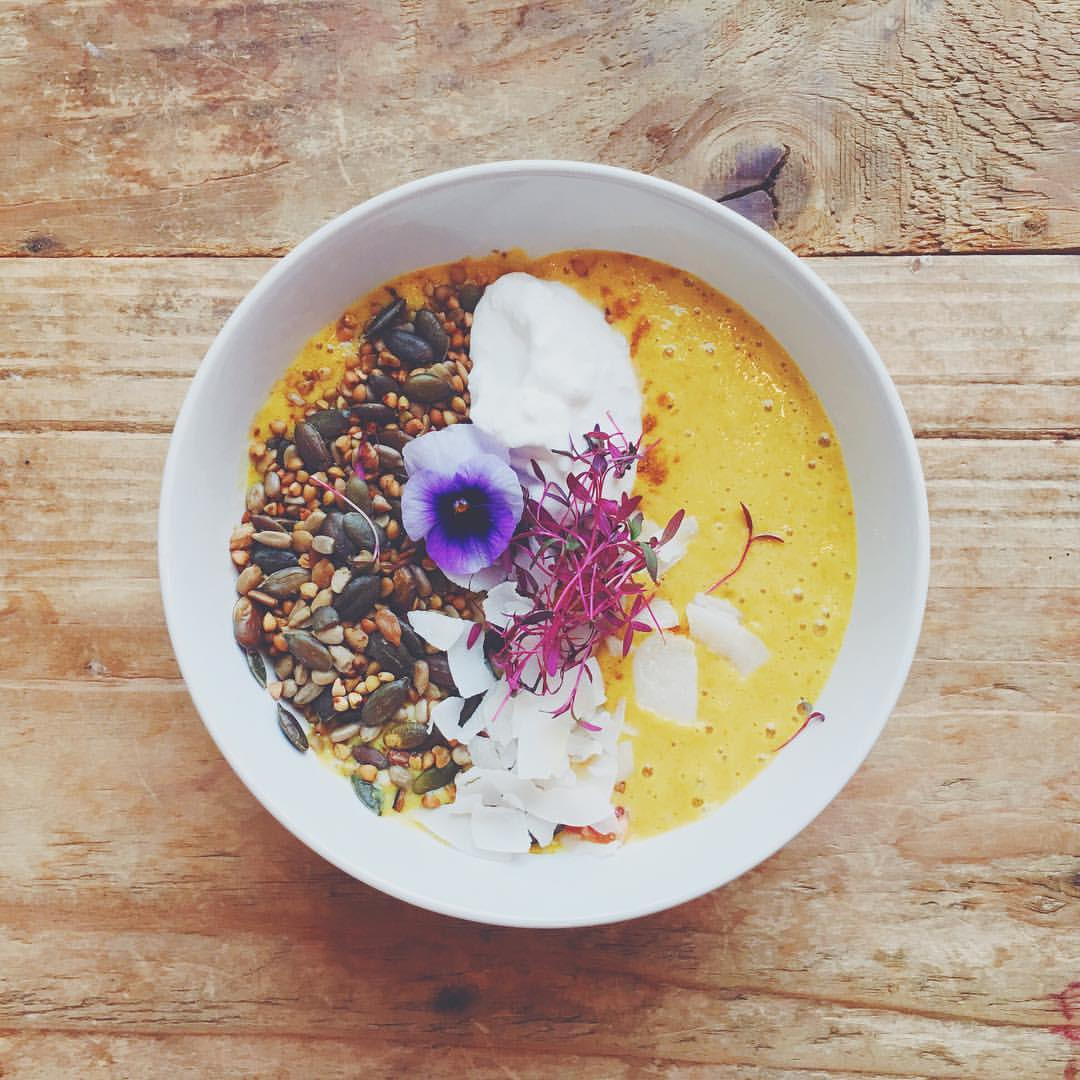 Salad Pride
Finish with flowers
The use of flowers – not just as a garnish but also a nutritious ingredient – is one of the hallmarks of a Salad Pride dish. Adding vibrant colour and flavour to any healthy dish, flowers are the perfect lunchbox pick-me-up. They also add a touch of finesse if you're hosting lunch for friends, serving salad as a starter or side-dish at a dinner party… or posting your lunch on Instagram.
Find out more about how you can incorporate flowers, such as violas, violets, pansies and roses into your cooking and baking with our guide to edible flowers you can feast on.
If you're the kind of person who puts crisps in your sandwiches because you need that little crunch, sprinkle a handful of toasted seeds over your salad. Sunflower, pumpkin, chia, sesame, hemp and flax seeds and pine nuts can all be dry-fried to create a rich, nutty flavour – and they're packed with a whole string of health benefits. Toss them in oil and a few spices before putting them in the oven for a little extra flavour kick. The texture will provide a lovely contrast to the soft, delicacy of your flower petals.
When only hot will do
If you're feeling the cold and only a hot lunch will cut it for you, swap your salad for a healthy soup. Check out this veggie broth and turmeric coconut curry, both garnished with violas, from Salad Pride. Get inspired to recreate your own salads to be proud of with the Salad Love book.
Are these tickling your taste buds? See what a difference edible flowers can make to your dishes - share your creations with us on Instagram.