Around the botanical world: a green journey around the globe
Fill your suitcases with flower and plant inspiration
Planet Earth is also called the blue planet. Over 70% of the world consists of water. But anyone who looks carefully can also see a lot of greenery. Flower and plant inspiration is everywhere. During our journey around the botanical world we're visiting six continents in our quest for botanical inspiration. The most remarkable plant stories, the loveliest flower vases, the best ways to incorporate plants in dishes, fashion inspired by flora and home décor with flowers and plants from all over the world. Will you join us?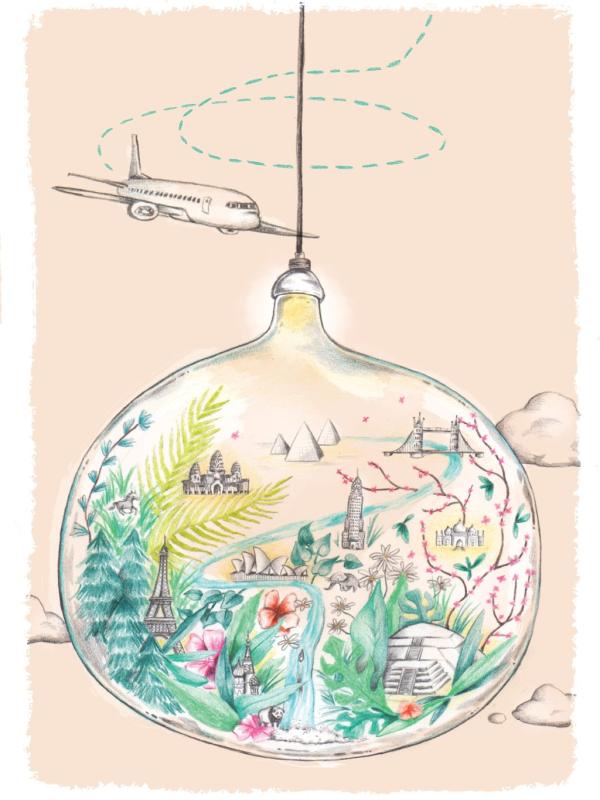 How is nature part of your life?
Nature has always been a great source of inspiration for people. As an ingredient for delicious recipes, as a magic remedy in the bathroom, to enhance your home or to brighten up your outfit. Flowers and plants are essential. And the nice thing is that everyone in the world is inspired by nature in a different way! 
Take a look
Have we stimulated your lust for travel? Great! During our journey around the botanical world we'll be visiting Africa, Asia, North America, South America, Oceania and Europe. You can look forward to accounts and images of the traditional costumes of East African tribes, North America's loveliest nature reserves, the story of European botanists who have changed our green world, Frida's stamp on floral fashion, the meaning of flowers during offerings, a floral variant on the tasty poké bowl from Oceania and much, much, much more!
We've got a plane to catch!
Hurry up, we've got a plane to catch. Grab your passport and an empty suitcase. You don't need any more than that. By the end of this trip your suitcase will be filled with summer flower and plant inspiration!