5 of the best desk plants
Brighten up your working week with an office friendly plant
Whether you work from home or a busy office, a desk plant is a great way to add an injection of colour and personality to your space. And aside from looking good, it could bring a host of other benefits to your working day, too.
Research shows that houseplants can help purify the air by filtering toxins emitted from everyday items, such as carpets, upholstery and paint, as well as cutting ozone emissions from office equipment, like photocopiers and scanners.
And it doesn't end there. One study found that a desk plant in your workspace could make you happier, more creative and more productive. The scientists at the University of Exeter found that office plants could help to boost staff wellbeing by up to 47%, and that allowing staff to make design decisions in a workspace that was enhanced with office plants increased creativity by 45% and productivity by 38%.
Here are a few of our favourite office-friendly plants…
Peace lily
Bring a touch of tranquillity to your working day with the aptly named peace lily. As practical as it is pretty, this delicate-looking plant is surprisingly tough and only needs watering around once a week (ideal if you're not in the office every day). It's also known for its ability to filter some of the most common airborne toxins.
Bamboo palm
Another plant known for its air-purifying properties is the majestic bamboo palm. Thriving in shady, indoor spaces, it's ideal for breathing life into a dingy, windowless office. And if you're lucky, you may get the bonus of blooms and berries. Allow its tropical beauty to take you away from the stresses of work and transport you to another world.
Mother-in-law's tongue
Another NASA-approved air cleaner is Mother-in-law's tongue. This beautiful plant, with its elegant, glossy spikes, grows upwards rather than outwards, so there's no danger of it taking over your workspace. Opt for a single plant on your desk or line up several plants in an oblong planter to make an attractive divider screen in an open-plan office.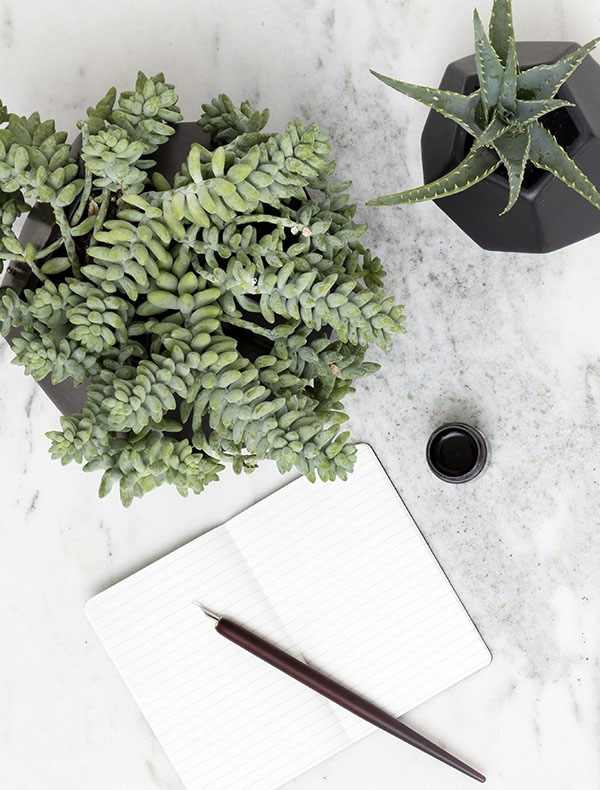 scstockshop
---
Succulents
Office air-conditioning can be very drying so forget humidity-loving plants and opt for something that can thrive with little moisture. Cue the succulent. Stylish and compact, they're ideal for smaller workspaces – and if they can survive the desert, they can survive your office air-con unit.
Philodendron
Transform an old metal filing cabinet with a cascading glossy-leafed philodendron. These easy-care plants will let you get on with your work without troubling you for too much attention – and are suitable for a wide range of indoor conditions. Water twice a week: job done.
Which plant will you be sprucing up your workspace with? Share your pictures with us on Insatgram.