2018 style trend: Romance 3.0
Romance reinvented
At last! After having been told for years that the economy was flat on its back, the general misery finally seems to have lifted. Decadence is allowed again. The style trend that matches this is expressed in super-luxurious materials, opulent shapes and rich colours. Immerse yourself in the magical world of Romance 3.0.
Indoors and outdoors
This rich style trend can be applied both indoors and outdoors. For the interior, the eye-catching use of warm colours is combined with both bold and delicate patterns, often with a nod to the floral. Let nature and extraordinary arrangements take centre stage with decorative prints in the background.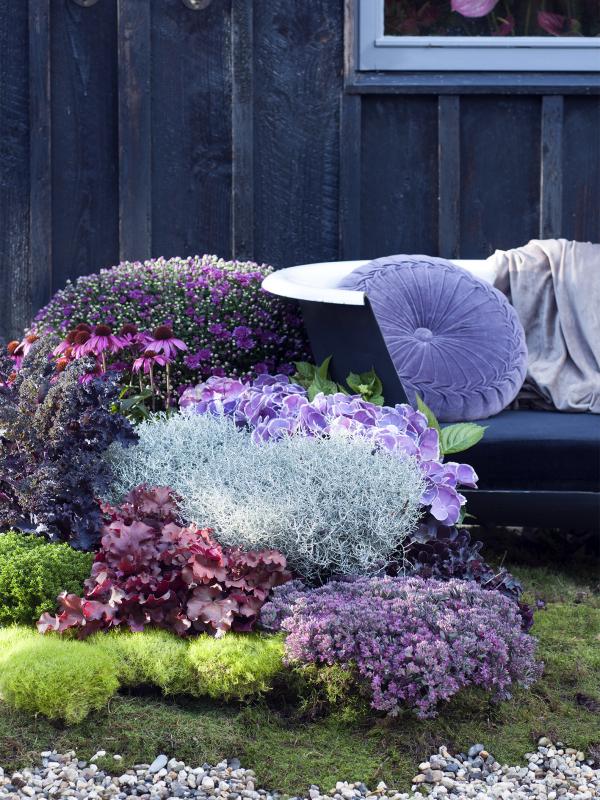 Characteristics
Anyone who loves gold and copper will be over the moon this season! But other luxury materials such as marble and velvet are also utterly Romance 3.0. Ceramic, glass, leather or high quality fabric which have been worked in an unusual way are also allowed. Layer upon layer for an extravagant effect. You will see plenty of powerful shapes that are wonderfully excessive. In the garden that expresses itself in inflated rounded shapes. In terms of colour both pastel shades and dark colours are allowed. What is notable is the return of purple. How convenient that that's the Pantone colour of the year!
Apply Romance 3.0 at home and in your garden
If you'd like more romance in your life put on a dress with embroidered flowers and settle down on your ochre velour sofa. Where in your home could you place an exuberant Dutch Masters bouquet? Will the same corner also take some stunning wallpaper with a floral print? Plants can be extravagant, lavish and even blooming - so don't forget them! The garden is also enjoying a makeover. Borders flow into one another and the hedge appears to be made of bubbles.
Got the bug? Take a look at the DIY craft project that matches this style trend as well.