2018 style trend: Punk Rebooted
Let the rebel in you prevail
Power is there for the taking. And sometimes the powerful seem untouchable. It makes people rebellious, creates a sense of dissatisfaction that results in a rough and rugged edge to society. Make yourself heard with the Punk rebooted style trend.
Indoors and outdoors
Bang! This style trend smacks you right in the face. The established order is shoved aside in a rough, almost aggressive way. Unpolished materials contrasts starkly with the flowers and plants that play an eye-catching role. It's all about capturing the viewer's attention. I'm here, I belong here, look at me. Its effect is so intensely persuasive that you happily allow the space to be captured.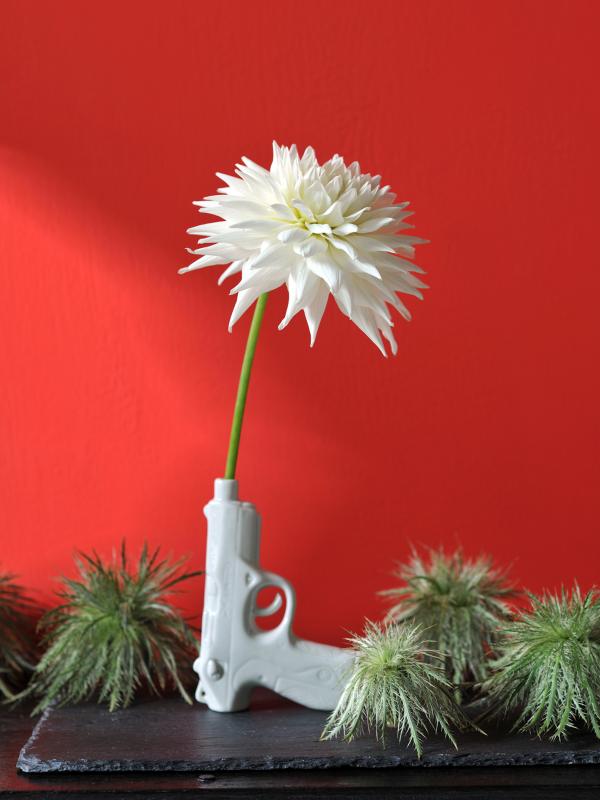 Characteristics
This style trend cannot be overlooked. Black, red, graffiti, jagged, spiky alternating with metal and the greenery of flowers and plants. It emphatically demands your attention: sometimes very noticeably in the form of protest, and sometimes almost subtly with scratches, splash patterns and freedom and peace symbols. As if you've stepped into an underground Berlin world inhabited by a group of art  directors.
Apply Punk Rebooted at home and in your garden
Give your plant pots a patent leather sleeve, upgrade your wall with a graffiti tag, borrow (or steal, because that's utterly rebellious of course!) some metalwork from a building site and let it become the podium for your plants and flowers in eye-catching colours. Chicken wire as fencing for your garden plants also works. And if some of the gravel falls next to the border, just leave it there! Cactuses, explosive dahlias and indoor trees with a mind of their own. It's all allowed in the Punk rebooted style trend.
Got the bug? Take a look at the DIY craft project that matches this style trend as well.