What plant type are you?
Win the plant that matches you best
You've vacuumed up the needles and left the festive season behind you. What now? Off to the garden centre to fill the space! But wait… a plant's always a great idea, but take a look to see what type of greenery matches you best. Before you know it, you won't be able to see the wood for the fantastic plants. What plant type are you really? Are you botanically lazy, or do you want push for a real explosion of greenery? What shape of leaves, what mood, how big, with meaning, fast-growing, colour? Help! 
Win your one true plant
Before your Christmas stress turns into houseplant stress, we'd like to help. We've created a simple flowchart to bring you to your one true plant. If the feeling is mutual, and it would like to live with you too, there's a good chance that you could win the plant! Tell us why you want to build a long-term relationship with your favourite over the coming years, and you might soon be able to make the magic happen together. 
Find your perfect plant match in a couple of steps
Answering 'yes' or 'no' couple of times will bring you straight the plant that matches you perfectly.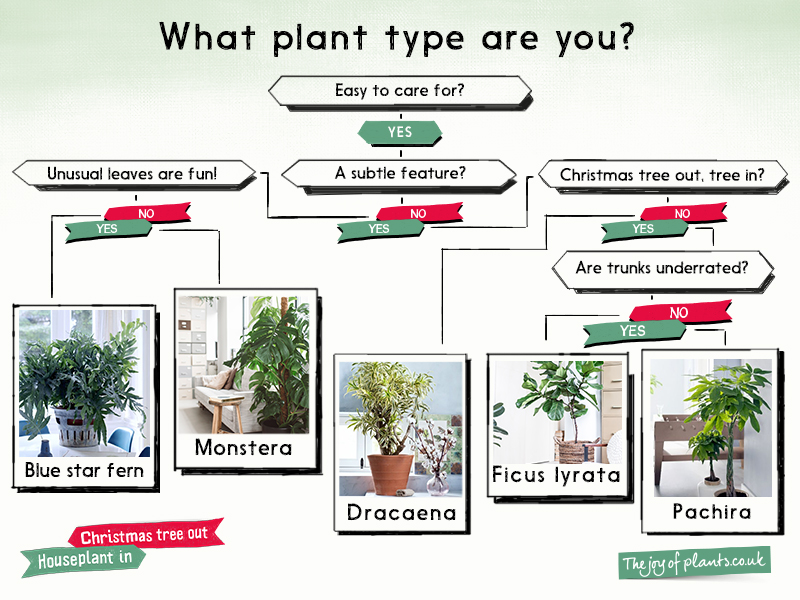 ---
Dracaena
Make things airy, and enjoy the tropics. The cheerful leaves shine in various colours on sturdy trunks, and also purify the air for you. 
---
Pachira
Pachira makes a statement with its trunk, but the leaves are certainly also worth admiring. And if you spent a little too much over Christmas, it's good to know it also called the money tree. 
---
Monstera
Hello plant! The large, round leaves with big notches provide a new stylish boost for your home. It symbolises a long life, and purifies the air for you.
---
Blue star fern
A lively, cheerful attention seeker. The blue star fern's unusual green-blue foliage doesn't take over your house, but does make it complete. 
---
Ficus lyrata
Subtle and airy, yet very much a presence. Ficus lyrata is a cousin of the fig, and often produces leaves that are some 50 cm long. They're green, leathery and shiny, and have distinctive light veins which are embedded in the violin-shaped leaf. 
Win the houseplant that suits you best
To win a stylish houseplant, tell us which one of these plants matches you best? Tell us why you want to build a solid relationship with your favourite plant! 
The giveaway begins on Friday, January 6th and ends on Friday January 13th 2017. We will mail the winner as soon as possible so he / she can prepare for this growing family!