Skimmia
Cheerful abundance of red sparkling berries
Green leaves, shiny berries: the Skimmia is an all-rounder that's green in spring, provides fragrant flowers in summer, and is bright and colourful in autumn and winter.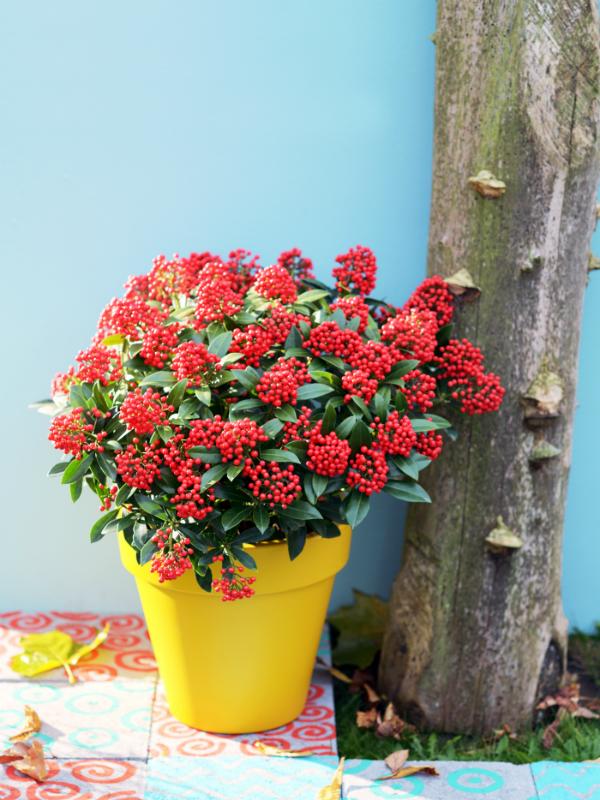 Beside your front door, in the back garden, next to your pumpkins and gourds, this Skimmia (full name Skimmia japonica 'Pabella') provides instant warmth and colour wherever you put it. In autumn, the berries change from green to red and stick around long enough for you to truly enjoy them because unlike other berry-bearing plants, birds and small garden mammals aren't particularly keen on them. The plant reaches a maximum height of 100-125cm and can be placed either in the soil or in pots, containers and tubs. If you plant it in a tub, make sure there's adequate drainage: too much moisture is one of the few things Skimmia cannot tolerate.
Skimmia: the Pride of Holland
Skimmia is a member of the rue family (Rutaceae), which also includes citrus trees. That link is reflected in the leaves which when crushed, released a citrus smell. In the wild Skimmia grows in the forests of China and other parts of Asia such as the Himalayas. However, this beautiful berry-bearing plant has been created in a Dutch greenhouse. If you want the plant to thrive in your garden, you need to place a male Skimmia alongside a couple of ladies to provide pollination. The male plant can be identified by its shape: it flowers slightly more forcefully and the flowers have stamens. 
Skimmia Trivia 
Skimmia japonica 'Pabella' is a cousin of Skimmia japonica ' Rubella' , known for the beautiful flower clusters.

The first Skimmia arrived in Europe in 1838 and ended up in the greenhouses of Kew Gardens.

The Latin name was derived in 1784 from 'miyama shikimi', which is the Japanese name for Skimmia.