Tell us more about the look you created 
My aim for this look was to create a lush cocoon where you can sit down, chat, relax and enjoy being surrounded by different houseplants from South Africa – which make you feel like you are there! The look features beautiful textiles, natural materials like linen, jute, and cotton, as well as a lovely plant shelfie with smaller plants and handmade terracotta items.
What inspired you to choose South Africa?
When I think of travel, I instantly think of lush plants like palms, banana trees and plants with big leaves like Strelitzia. Strelitzia is a genus of five species of perennial plants native to South Africa, so this was my starting point. Also, contemporary South African design is such an interesting mix of graphics, shapes and craftmanship which pairs wonderfully with plants.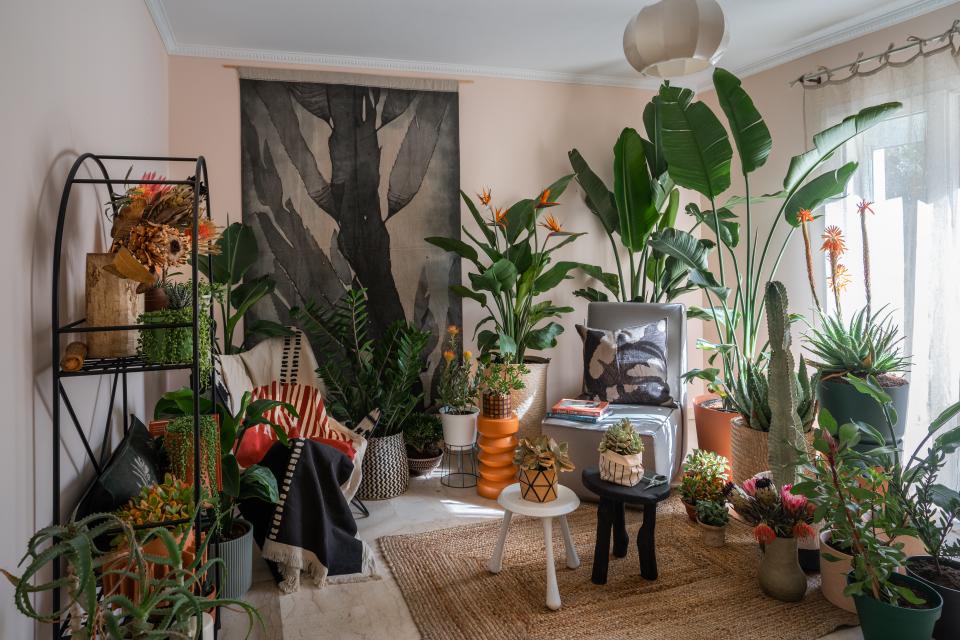 What are your favourite houseplants to feature in the look you created and why?
It must be the all the Stretlitzia plants, the augusta, Nicolai and reginae. I love their elegant leaf shapes and their tropical Bird of Paradise flowers. Another favourite is the Protea – the national flower of South Africa – which grows on small bush-size plants that thrive in sunshine. 
How are elements of South Africa reflected in the design and styling?
South Africa is reflected in every aspect! The large wall panel central to the look is a beautiful, linen piece designed by a South African designer. The handwoven baskets for the Strelitzia, ZZ plant and Aloe aculeata were also made in South African and I admire how the porcupine structure of one of the baskets made of palm leaves, matches the spikes of the Aloe aculeata. You really do feel like you're in the country, and contemporary textiles from a South African brand complete the look.
What is a unique feature or quality of houseplants native to South Africa?
I love the huge variety of South African houseplants which include a mix of common and rarer plant species, so there's something for every houseplant lover. A Kalanchoe rotundifolia or Zamioculcas zamiifolia are easy to find in most garden centres in Europe, while the ZZ black raven or soft Kalanchoe tomentosa are more special. 
What is your top styling tip for houseplants native to South Africa?
Pair your plants with graphic and outspoken shapes, both in textile patterns and woven baskets, as well as small furniture items like stools and plant stands. Limit your colour palette to black and white, or beige neutrals and let the orange hues from handmade terracotta pots and the bright orange Strelitzia and Aloe blooms add a vibrant splash of colour to your South African-inspired urban jungle.
What is your top care tip for houseplants native to South Africa?
Most South African plants love sunshine so keep them close to window or place them on a windowsill. Once the temperatures are warmer, take them outside and let them sunbathe and soak up the rays! Just be careful they don't get sunburned and move them gradually towards more light.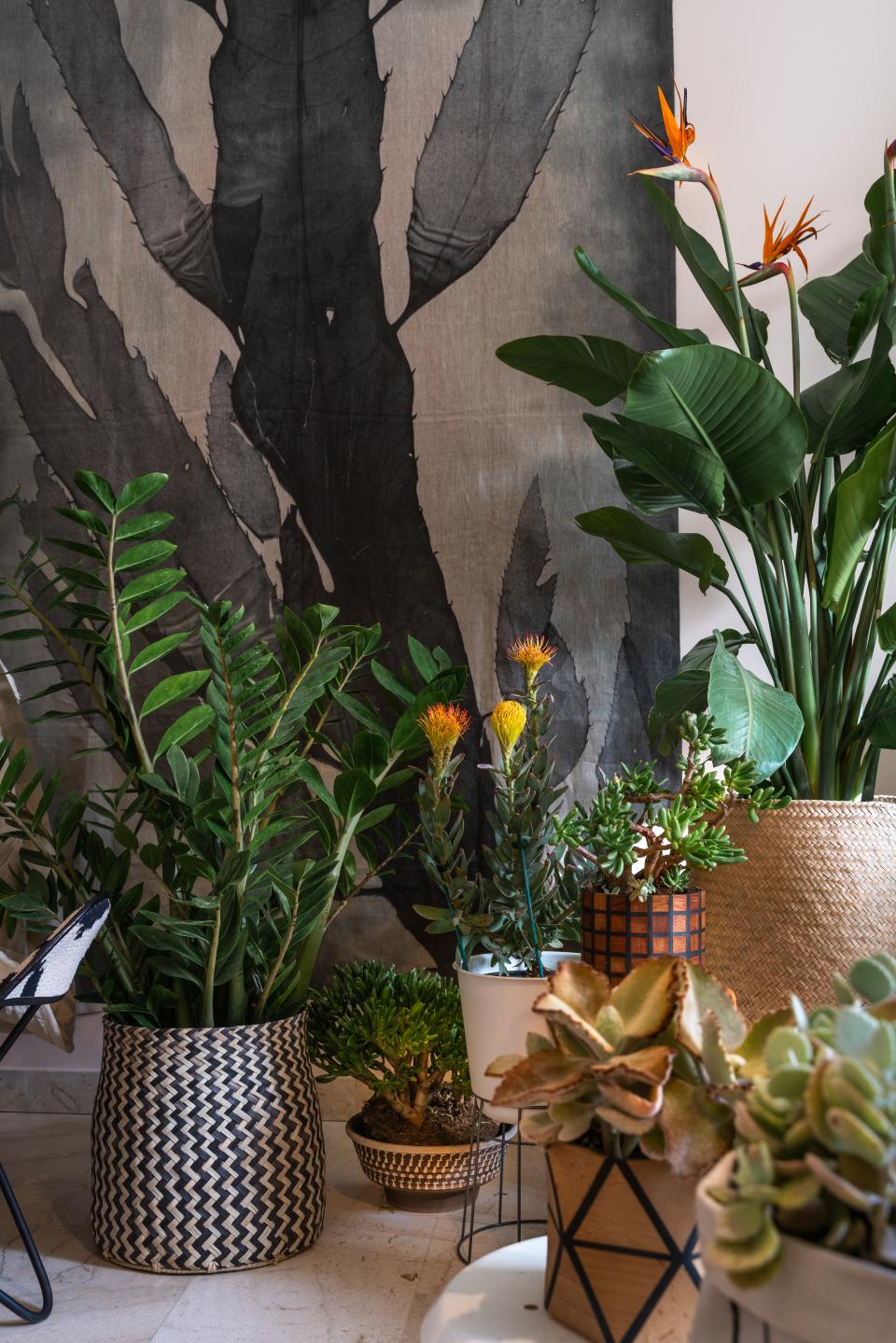 How do you think houseplants help us 'travel' and achieve that holiday feeling from home?
While we can't travel abroad, introducing one or two extra large plants will add an instant jungle vibe to your home and transport you to another destination. Spending time taking care of your plants truly helps you to unwind and relax giving you a well-deserved break from busy days of video calls or working from home – almost like a little holiday!
What would be your advice for someone wanting to recreate this look at home?
Go big! This doesn't have to be a dozen houseplants but instead one or two large, mature Strelitzia plants. Place them in a beautiful plant pot or handwoven basket, add a stool with a striking zig zag shape and place it next to your favourite chair or sofa so you can put your feet up and enjoy! Or even better, veel plesier! 
If people wanted to create a look inspired by another country to (houseplant) travel to, what would be your suggestion?
It would have to be Arizona or Mexico for all their beautiful cacti. The variety of cactus plants growing in the wild in these countries is mindblowing, and they are probably my favourite plants as they are such cool creatures which can survive in such hostile environments.
Head here to find out more about our Houseplant Travel campaign.