DIY: mossy eggs on the Easter table
A fairytale beside your water glass
Charles Eames summed it up: "The details are not the details. They make the design." The same applies to your Easter table. The table is filled with delicious treats, étagères with fabulous flowers and plants and a home-made Easter cocktail. But creating space for one more fantastic detail makes all the difference between an ordinary meal and a party. How? Create beautiful mossy eggs with a single flowering plant; a fairy tale beside your water glass. 
You will need:
Hard-boiled eggs (or polystyrene foam in an egg shape)
Moss
Beautiful flowers and plants: we used lady's smock and fern
Glue gun
Gold wire
Scissors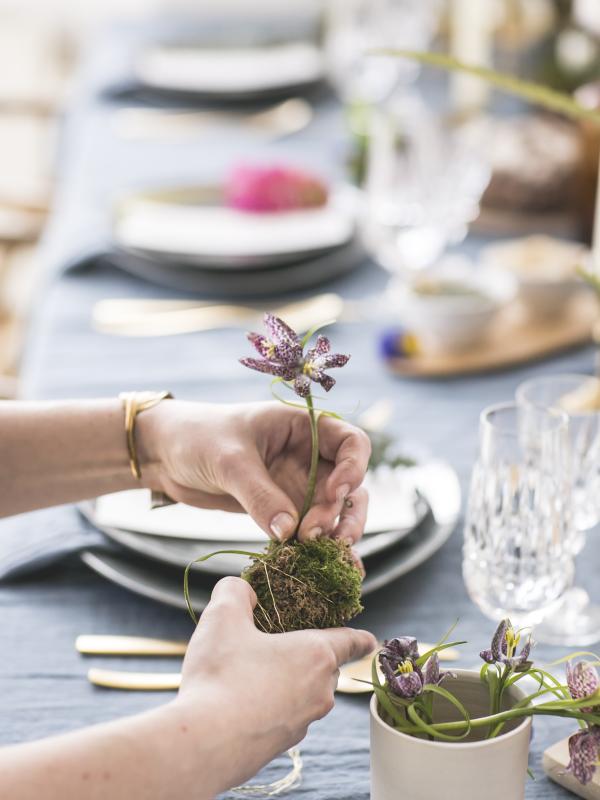 Get to work
Tear off a number of small pieces of moss. Apply the warm glue to the egg and then attach pieces of moss until the whole egg is covered. Make sure the moss is not too damp, otherwise it won't stick. Small gaps can easily be filled with some extra glue and moss. If the moss is a little too wild, you can trim it a bit with scissors.
Select the most attractive flower or plant leaves and secure them with gold wire. Also use gold wire to create a small egg cup for your fairytale mossy egg - it's all about the details!