Cushion chrysanthemum
Cheerful and decorative autumn hit
A couple of colourful cushion chrysanthemums, each producing a sea of flowers: perfect for giving your terrace, garden or balcony a colourful boost.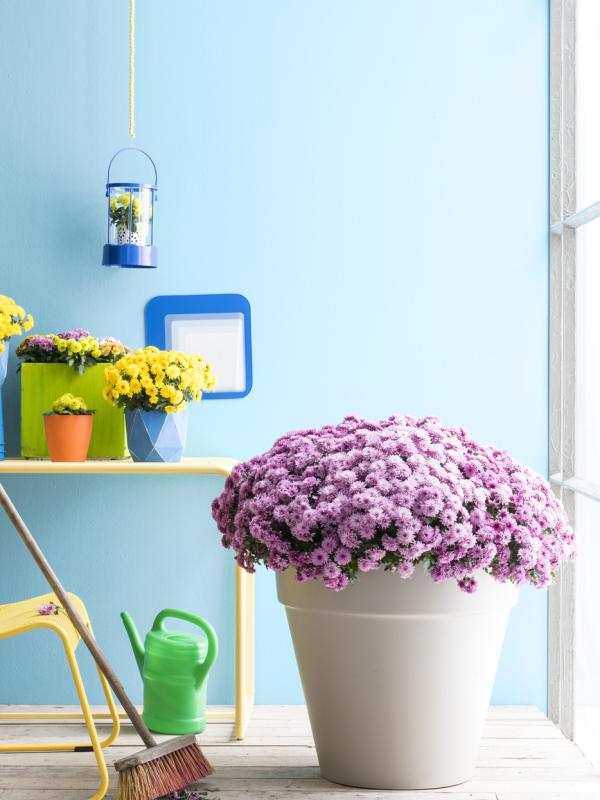 The cushion chrysanthemum flowers with a dizzying number of small chrysanthemums. This garden bloomer is particularly grown for use in the autumn, because the plant can cope with lower temperatures without its flowering being affected. The cushion chrysanthemum is an annual, and all its charm is down to the huge amount of flowers it produces. This garden bloomer is available in various sizes, from mini to mega. In its cultivated form it is a fairly recent arrival, having been around for some 40 years.
Dome and other shapes 
As a dome-shaped shrub, the cushion chrysanthemum is widely available from late summer, in colours that perfectly compliment the season: purple, lilac, cognac, yellow, ochre, white, old rose and dark red. The cushion chrysanthemum has plenty of visual appeal even when it's still in bud, and then bursts open lavishly, in single or double flowers. The foliage is also perfect for autumn. It has a deep hues, just as nature does at that time of year. The shape is  not always a dome, incidentally: sometimes the plant is supplied as a standard or in a pyramid shape. There are even rare hanging versions of this variety. What they have in common is that they are covered in flowers for months and provide constant colour for your garden, terrace or balcony. 
Style it in style! 
The cushion chrysanthemum looks great in colour-matched pots or even colour-popping contrasting colours. But they also work well in coloured metal containers. For a classic look, nothing can beat a robust earthenware base. If you like modern, then opt for a single colour and a single size. If your gardening style is more 'back to nature', you should mix up different colours and sizes, preferably also at various heights. 
Ancient holy plant 
As a plant the chrysanthemum has been known for a very long time, and is mentioned in writings dating from 1500 B.C. Chrysanthemums were grown in China as a medicinal herb. An infusion from the roots were  used to treat headaches. Young shoots and petals were eaten, and the leaves were used to make tea. This garden bloomer is so popular in China that there's a whole city named after it: Chu-Hsien means 'chrysanthemum city'. The cushion chrysanthemum that we can buy here is not suitable for human consumption, incidentally. 
Cushion chrysanthemum trivia 
Buy a cushion chrysanthemum that's already showing a bit of colour to maximise your chance of all the flowers opening.

Chrysanthemum means 'golden flower'. It's a combination of the Greek words 'chrysos' (gold) and 'anthemon' (flower).

The cushion chrysanthemum gets its name from the fact that the dome shape resembles a soft cushion.

Chrysanthemums have been holy flowers in China and Japan since the 8th century; the Japanese throne is called the Chrysanthemum Throne.

Cushion chrysanthemums are often given as gifts; the flowers symbolise a long life.